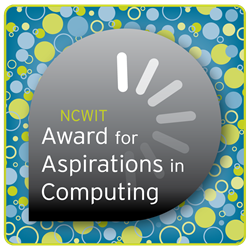 Boulder, CO (PRWEB) September 23, 2014
The National Center for Women & Information Technology (NCWIT) Award for Aspirations in Computing is now accepting applications a competition open to any U.S. high school woman with computing aspirations. The multi-tiered award includes recognition at the national level (sponsored by Bank of America) and at the local level (sponsored by Microsoft), serving 50 states, the District of Columbia, Puerto Rico, and the U.S. Virgin Islands.
Aspirations Award recipients are chosen for their outstanding aptitude and interest in computing, proven leadership ability, academic performance, and plans for post-secondary education. Each award recipient receives recognition at an award event, scholarship and internship opportunities, access to a peer community of technical young women, and various other prizes computing resources, gadgets, sponsor swag, engraved awards and certificates, and more. Additionally, National Award recipients receive:

$ 500 cash
a laptop computer
a trip to attend the Bank of America Technology Showcase and Awards Ceremony in Charlotte, North Carolina on March 7, 2015
an engraved award for both the student and her school
networking opportunities with Bank of America employees
Students can apply online at http://www.bit.ly/AiCHSAward through November 2, 2014 at 11:59 p.m. EST.
This award is a huge stepping stone, said NCWIT CEO and Co-founder Lucy Sanders. The recognition and visibility that these young women receive lead to educational and workforce opportunities in technology, encouraging them to persist in one of the fastest-growing and most stable fields. We are excited to support these young women as they continue on their paths to success.
The award has encouraged and impacted thousands of young women since its inception in 2007, widening the talent pool and closing the gender gap in computing, a critical 21st century skill. Through the NCWIT Aspirations in Computing program, more than 13,000 young women have self-identified as interested in computing and technology, and 83% of participants now in college report a major or minor in traditionally male-dominated STEM fields.
Research has validated that encouragement is one of the most important factors in helping girls pursue computer science, which is why Microsoft is pleased to support the NCWIT Aspirations in Computing Award," said Microsoft Research Principal Research Director Rane Johnson-Stempson.
Encouragement is a driving factor in how likely female students are to complete a computing major/minor and to choose a computing career more important than young womens confidence in and perceptions of their ability. Find related research at http://www.ncwit.org/thefactsgirls.
We understand the value that women bring to the field of technology, said Bank of America Shared Service Operations Executive Denise Menelly. We are so honored to be part of this award to recognize the hard work, talent, and commitment of these young women and to encourage them to continue their growth and knowledge of the technology sector.
The NCWIT Award for Aspirations in Computing is a component of the NCWIT Aspirations in Computing program a sweeping national talent development initiative for young women in computing and information technology, from 5th grade through graduate school. In addition to Bank of America and Microsoft, the Aspirations program is supported nationally by AT&T, Bloomberg, Google, Hewlett-Packard, Intel, Motorola Solutions Foundation, Northrop Grumman, and the Symantec Corporation. Find out more at http://www.aspirations.org.
About NCWIT

The National Center for Women & Information Technology (NCWIT) is a non-profit community of more than 575 universities, companies, non-profits, and government organizations nationwide working to increase womens participation in computing and technology. NCWIT equips change leaders with resources for taking action in recruiting, retaining, and advancing women from K12 and higher education through industry and entrepreneurial careers. Find out more at http://www.ncwit.org.
NCWIT receives significant financial support from Strategic Partners NSF, Microsoft, Bank of America, Google, and Intel, as well as from Investment Partners Avaya, Pfizer, Merck, Turner Broadcasting Systems, Inc., AT&T, Bloomberg, and Hewlett-Packard. View all of NCWITs supporters at http://www.ncwit.org/about/supporters.
http://www.twitter.com/ncwit | http://www.facebook.com/ncwit | http://www.ncwit.org/linkedin
About Bank of America

Bank of America is one of the world's leading financial institutions, serving individual consumers, small businesses, middle-market businesses and large corporations with a full range of banking, investing, asset management and other financial and risk management products and services. The company provides unmatched convenience in the United States, serving approximately 49 million consumer and small business relationships with approximately 5,000 retail banking offices and approximately 16,000 ATMs and award-winning online banking with 30 million active users and more than 15 million mobile users. Bank of America is among the world's leading wealth management companies and is a global leader in corporate and investment banking and trading across a broad range of asset classes, serving corporations, governments, institutions and individuals around the world. Bank of America offers industry-leading support to approximately 3 million small business owners through a suite of innovative, easy-to-use online products and services. The company serves clients through operations in more than 40 countries. Bank of America Corporation stock (NYSE: BAC) is listed on the New York Stock Exchange.
About Microsoft

Founded in 1975, Microsoft (Nasdaq MSFT) is the worldwide leader in software, services, devices and solutions that help people and businesses realize their full potential. Note to editors: For more information, news and perspectives from Microsoft, please visit the Microsoft News Center at http://www.microsoft.com/news. Web links, telephone numbers and titles were correct at time of publication, but may have changed. For additional assistance, journalists and analysts may contact Microsofts Rapid Response Team or other appropriate contacts listed at http://www.microsoft.com/news/contactpr.mspx.