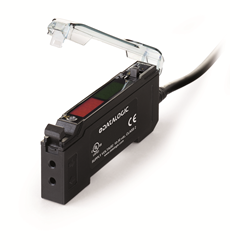 Eugene, Oregon (PRWEB) September 25, 2014
Datalogic S.p.A., a global leader in Automatic Data Capture and Industrial Automation markets, is pleased to announce the new fiber optic sensor S70 with advanced design and features.
This new fiber optic amplifier series provides high performance detection offering fast response times in high speed or low contrast applications. Two models are available with different selectable response speeds: 200 s (High Speed), 500 s (Standard), 2 ms (Long Range) and 5 ms (Extra Long Range) for S70-E1, 10 s (Super High Speed), 15 s (High Speed), 50 s (Fast), 250 s (Standard), 500 s (Medium Range), and 1 ms (Long Range) for S70-E2.
The S70 has dual digital displays, showing both signal level and threshold simultaneously, and a bright output LED for easy programming and status monitoring during operation. The sensor is suitable for detections in reduced spaces thanks to its compact dimensions and it is easy to mount thanks to the DIN rail compatible format.
All S70 amplifiers work with any Datalogic 2.2 mm fiber optic cable, which will allow for several operating distances according to their design and application.
The S70 fiber optic sensor features a single discrete NPN or PNP output, and a model with IO-Link interface* is also available.
The S70 enhances the Datalogic fiber optic amplifiers series, ensuring reliable and stable performance as well as full control over all operating parameters through expert Teach and Set methods.
HIGHLIGHTS